Loreto

Isn't this a beautiful setting? Some day I will be down there on that beach. The dirt road that goes down to it looks like one would need a vehicle with more Highway clearance than my Corolla, so I just continued down the road to Loreto.
Loreto has what I would call tourist facilities. By this I mean there are several restaurants with menus in English, and now they even have an Internet Cafe. While on the subject of the Internet, If you want to connect to it from your motel room, lots of luck. It's 850 miles from Ensenada to La Paz and I've yet to find a room with a phone. There is an expensive resort south of Loreto that costs so much I would expect it to have direct dial phones, however I've never stayed there.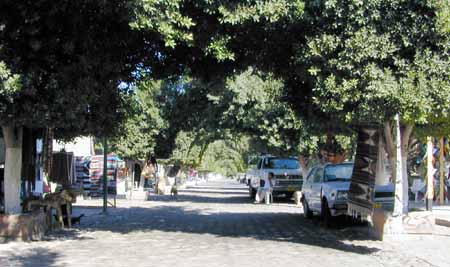 Loreto has only one area where vendors try selling to tourists. This was the first thing I noticed as "I walked down the streets of Loreto....".
Since I had reservations at the La Pinta Motel I went there to check in. The street layout does not match the map in the AAA book, so I ended up touring the North side of town.
La Pinta is located right on the Sea of Cortez. As you can see, one can just step right out onto the beach. That is, unless you're on the second floor. The restaurant is okay, and the pool has water and is nicely landscaped. I was excited to see phones in the room, but discovered that they were only for room to room calls. The picture below gives you an idea of the size of this motel.

Nothing that was noteworthy happened on this stay in Loreto, however that does change on future stays. I got a good night's sleep, and after a good breakfast, left for La Paz the next morning.
There is a mountain about 60 miles down the road that will be referred to as "The Mountain". Who could have known that this mountain would become an obsession with me. There were numerous mountains around that were very flat on top. But this one was so flat that it looked like it had been cut with a knife. Moreover, it was only about a mile or two from the highway. Since I still had the notion that everyone would be out to get me, I was afraid that about half way up the hill I'd look back and see someone driving off with my car. I will climb that mountain someday. It can only be viewed from the west. Since it was morning, the sun was staring me in the face, making a picture impossible, but I knew I'd get it sooner or later. (The picture, not the sun.)
About half way between Loreto and La Paz the town Ciudad Constitucion. I don't know why anyone would ever stop there.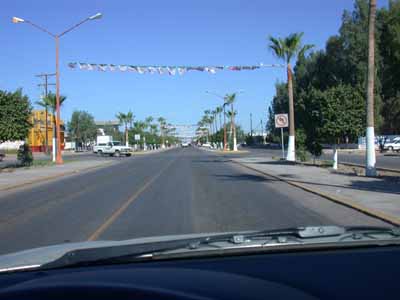 As Highway 1 passes through it, the road has been widened, and palm trees line the road. That is about the only thing one could say that's positive about it. They have the only traffic lights within about an 800 mile stretch of the highway. There are about eight lighted intersections, but only one works. As long as you're good at playing chicken, this helps you to get through town faster. Hint: Fill up on gas in Loreto so you don't have to stop here.
These military stops are something else again. Since I'd love to have some pictures of them, the thought crossed my mind that perhaps that refusal before was just that those individuals didn't want me to take pictures of them. This day's trip brought me three more stops. Without exception they refused any pictures. This is getting to be lots of fun. Now I have two obsessions.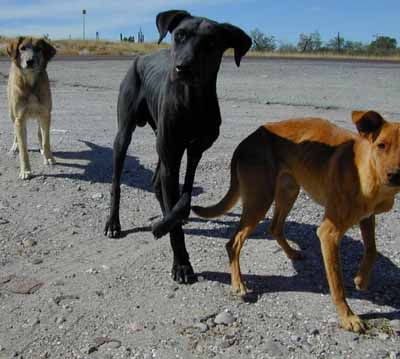 About 60 miles short of La Paz, there is a view of the La Paz area situated on the Bahia de La Paz. (Bay of La Paz) After pulling off of the road and taking the picture which is on the next page, I found three more friends looking for food. Notice the black dog. His left front leg is broken and just flops around. I gave them the last of my bread, and made a note to buy dog food before returning here.
That afternoon I reached La Paz. Very little English is spoken there, but you do have all of the modern conveniences found in Ensenada. I could even connect to the internet from my room, although it was for $3.65 per minute. It should be noted that the internet cafes only charge about $1.50 per hour in La Paz. Guess which method I use.